Lil BUB
, the most famous cat on the planet, was in Tacoma this weekend for a cat show. They had a meet-and-greet with BUB, with all proceeds from the ticket sales going to her fund for Special Needs cats and kittens, so I invited my pal Opal to join me for this rare opportunity to meet this celebrity cat.
I think we were both a little starstruck by this cutie. She was so tiny, gentle, and sweet --- she happily received few pets from Opal, and posed patiently for photos.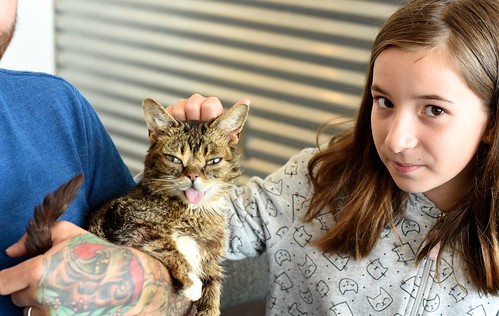 It was so fun meeting you, Lil Bub. Thank you for the positive message you put out to the world and for all of the good work you do for the Special Needs cats! Thank you also to Mike, Lil BUB's dad, for sharing her with us on Sunday!
After we met BUB, we took a walk around the show and met many beautiful, strange and exotic cats.
These creatures were all pretty fascinating, but I would give the "Best of Show" prize to this sweet orange love -- a rescue kitty presented by
The Community Cat Coalition
.
Don't forget, friends, we've got a matching donation challenge on the table from our friend Mary. Give now, dollars are DOUBLED. Your donation can help twice as much! Click
HERE
to visit our
fundraising page
! THANK YOU!